Apartments
»Pfusser Acker«
»Pfusser Lahn«
»Pfusser Acker«
Size: 36 sqm, groundfloor
Occupancy: 2-3 people
(4 people only in exceptional case on request)
Orientation: southfacing terrace
Notes on accessibility
The apartment "Pfußer Acker" is not fully barrier-free according to law, but we have done our best to help disabled people living indipendently. The apartment is accessible barrier-free and has no floor-level barriers on the inside. The doors have a minimum wideness of 80 cm. You can drive under the wash basin in the bath room with the wheelchair (height 75 cm) and there is an additional mirror streching to the floor. Although there is no barrier entering the shower, the gap between toilet bowl/radiator and shower glass is only 60 cm. There only is a turning space of 1.5 m in the living room. The terrace is accessible without barriers only from the court yard.
If you need more details to decide whether the apartment meets your requirements, we will be happy to give you further information.
Our little gem
Very high quality, optimally cut and furnished with natural materials without sacrificing comfort: cozy double room in solid wood, luxurious bathroom with large shower, light-flooded kitchen with "Leicht"-kitchenette, double sofa bed and small, courtyard-side terrace. With Weitzer natural parquet floors from European, sustainable forest and lovingly decorated with natural materials. Car parking in the enclosed yard. Equipment
Equipment
Bedroom: Furnished by a local carpenter on measure in chestnut solid wood with glass elements, high quality mattresses, natural sheep wool beds, handwoven carpets of pure sheep wool, artfully designed glass window to the bathroom.
Kitchen/living room: kitchen "Leicht" with solid wood elements, dishwasher, ceramic hob with 4 electric flames, fridge with freezer, many small appliances (coffee maker, kettle, espresso machine, toaster, blender, scales etc.), solid oak table with glass top, radio, double sofa bed with good mattress, can be quickly taken off and folded again.
small terrace: south-sided, with 3 chairs and a table, direct access from the kitchen. Here you can enjoy the quiet, balmy summer evenings!
»Pfusser Lahn«
Size: 80 sqm, ground floor (4 steps)
Occupancy: 4-5 people
3 sleeping rooms
Orientation: southfacing terrace
To everybody his own kingdom
High quality of living due to lots of space: double room, children's single room with balcony, pine room with French bed, fully equipped, large kitchen with dining table, elegant living room with tiled stove, lovely bathroom with washing machine, separate wardrobe, south-facing terrace with astonishing view over the valley and the mountains , natural wood floors in all living rooms and bedrooms, mostly solid wood furniture. Covered parking in the shed. Equipment
Equipment
Eat-in kitchen: fridge (with freezer), dishwasher, electric oven, 4 gas burners and wood stove as well as many small appliances such as kettle, coffee machine, espresso machine, blender, toaster, iron, etc. Direct access to the furnished, private terrace and the courtyard.
Room: double room in massive elm (bed 1.80 x 2.00 m) with large wardrobe, chest of drawers and luggage rack - children's room (single bed 0.90 x 2.00 m) with a small play area, desk, wardrobe and closets - room for 1-2 people with a French bed (1.40 x 1.90 m), wardrobe and luggage rack made of pure natural materials (fine Swiss Stone Pine and high-quality sheep wool felt from South Tyrol). The scent of Swiss Stone Pine reduces your heart rate and allowes you to sleep wonderfully relaxed.
Bathroom: large shower, sink, toilet and washing machine, plenty of storage space.
Living room: tastefully furnished in nut solid wood with couch, tiled stove and large TV. Perfectly fit for relaxing!
Terrace: At the table with the cozy chairs you can enjoy breakfast in the morning or a good glass of wine in the evening while enjoying the fantastic view.
Around our house
Around our house
Just feel comfortable at our place and enjoy the nature... You can have a nice barbecue under the old walnut tree and sit at the big wooden table. As the yard is closed, your children can safely play in the sand pit or the small wooden house next to it. Older children can have a ton of fun playing table tennis.
On the lawn, two sun loungers and a swinging chair are at your disposal. Just lie down and relax. You deserve it!
In our small reception you will find the guest library and board games as well as brochures and event information. Furthermore, we offer a broad selection of homemade products.
Products
Around the house we grow fruits and vegetables for our own use. We try to apply biological methods as much as possible, though we are not yet perfect in doing so. If the yield exceeds our own needs, we are happy to share it with you. In our product corner you will find many different homemade jams, juices, pickled vegetables, herbal salt, dried fruit, chutneys etc. and during summer also fresh fruits / vegetables and other goodies. Take a look at least once a day not to miss anything! Furthermore, there are handmade lavender and pine bags, sheep's wool hearts and candles.
Activities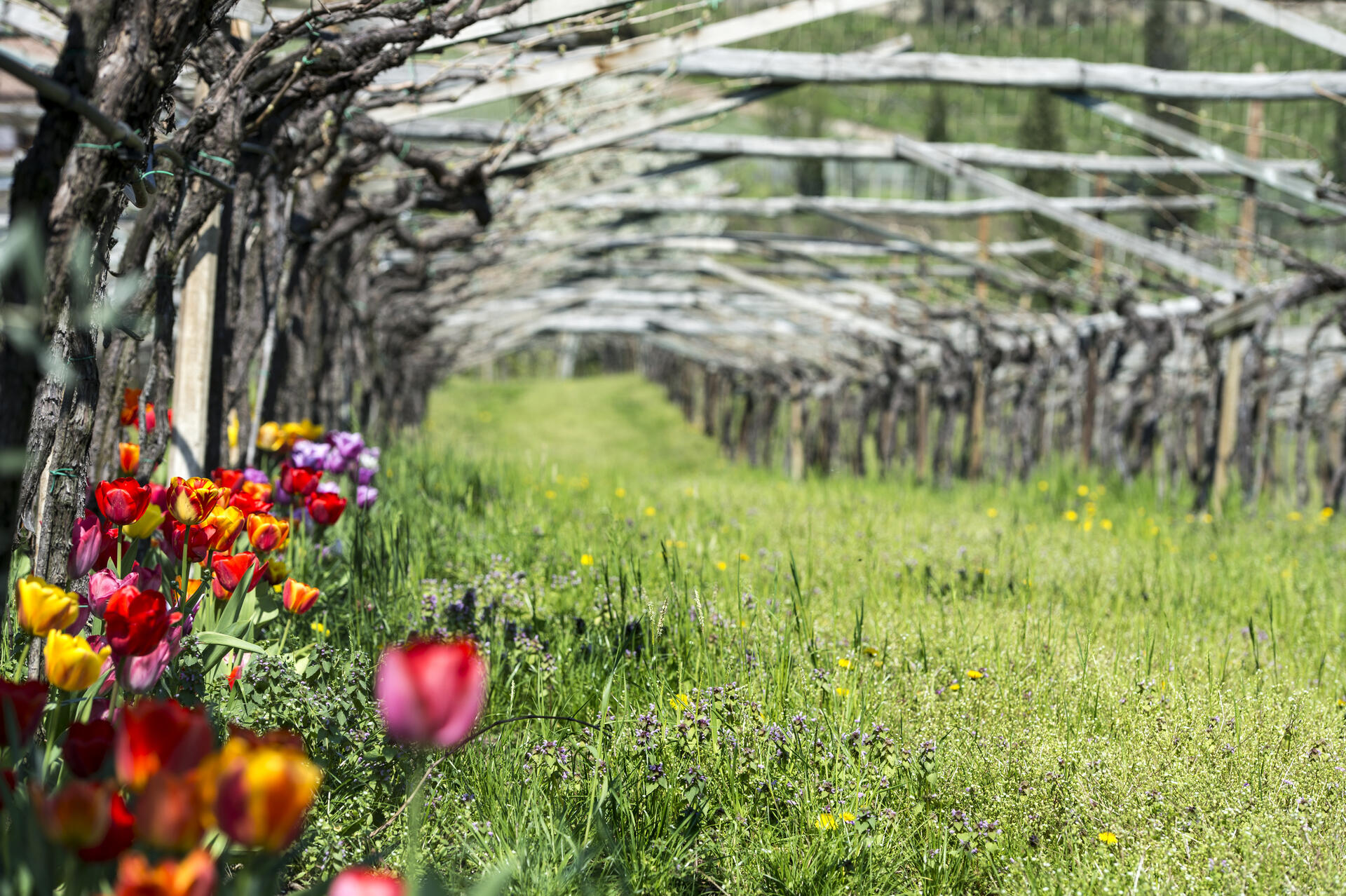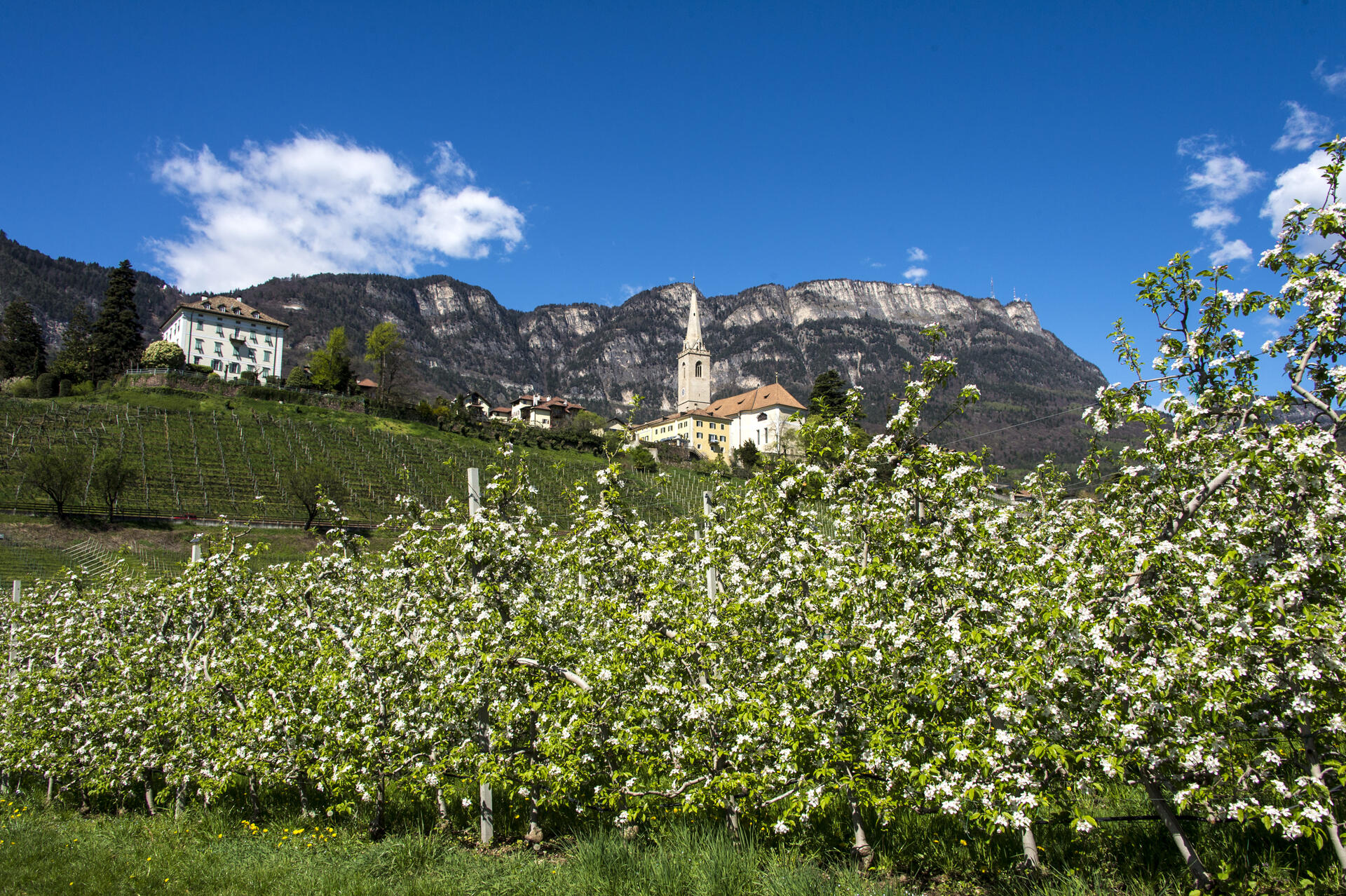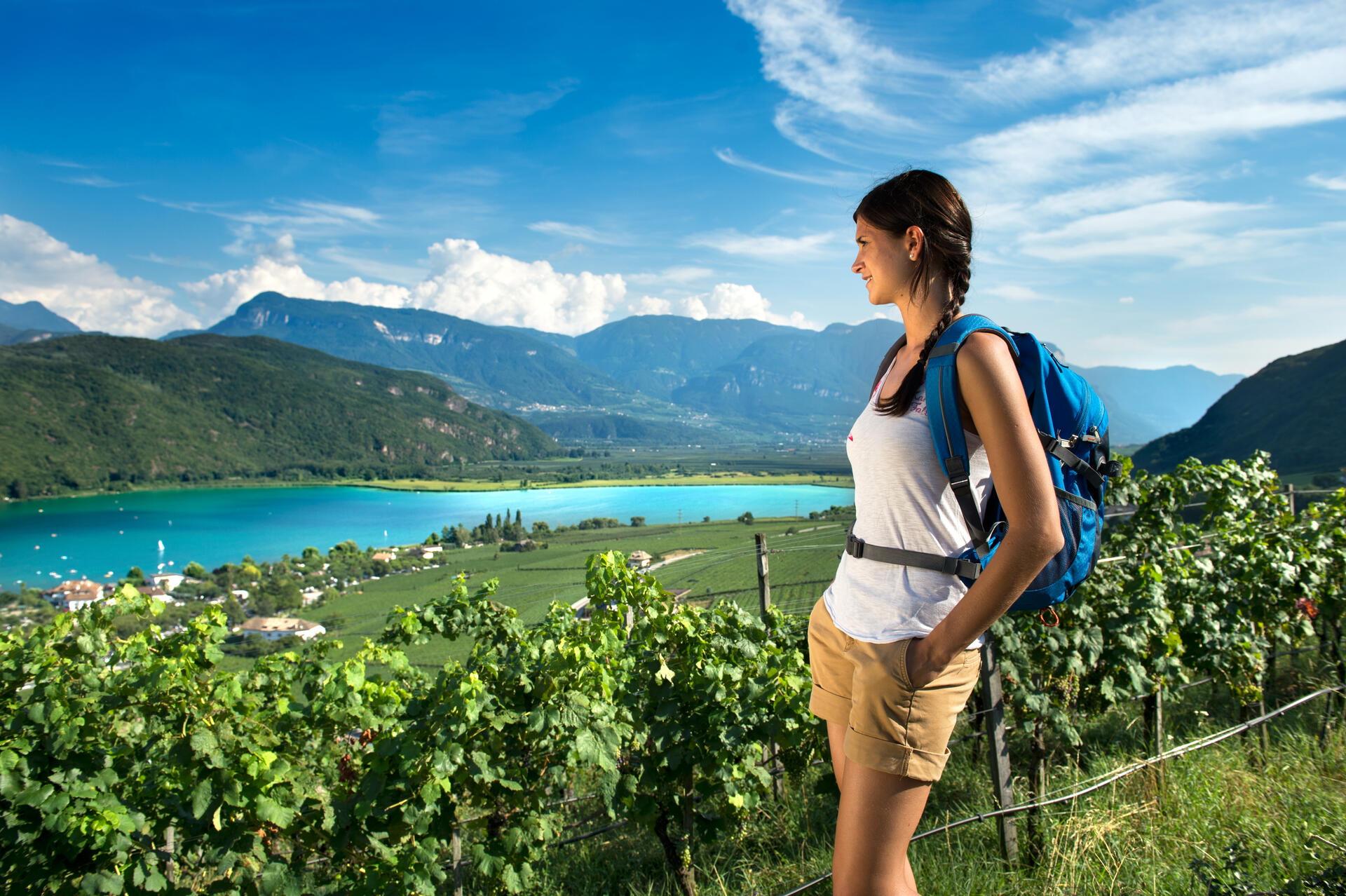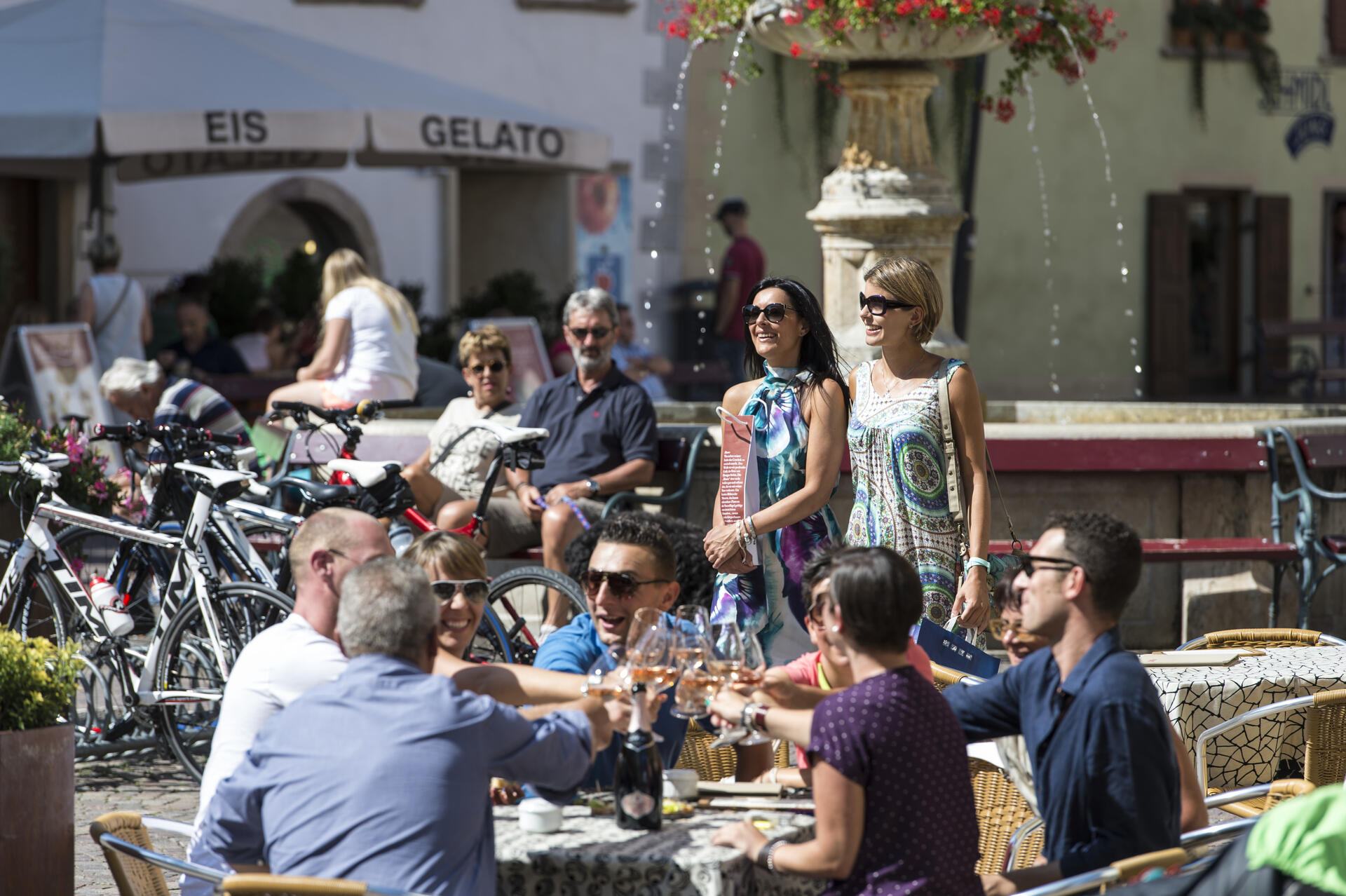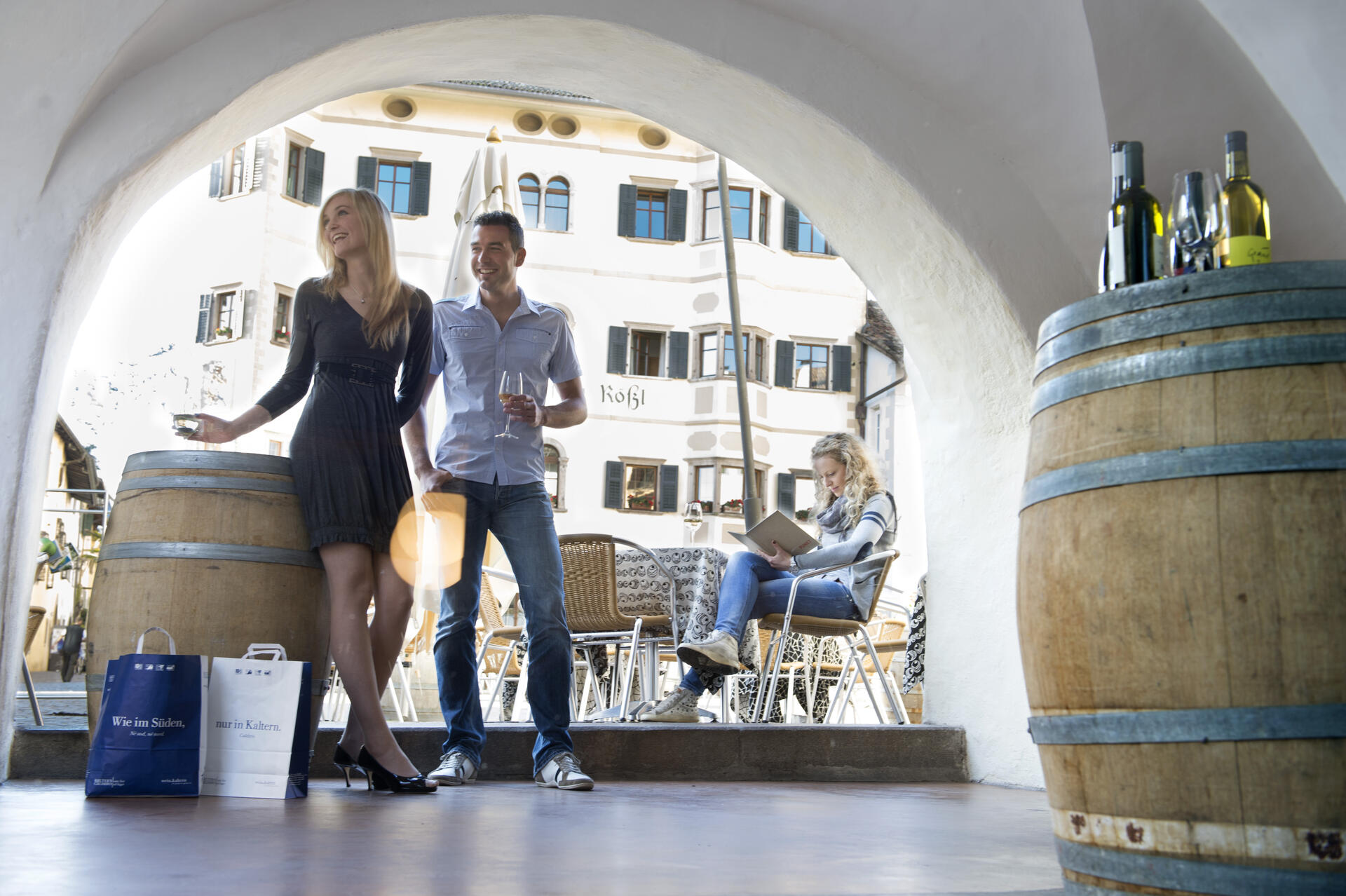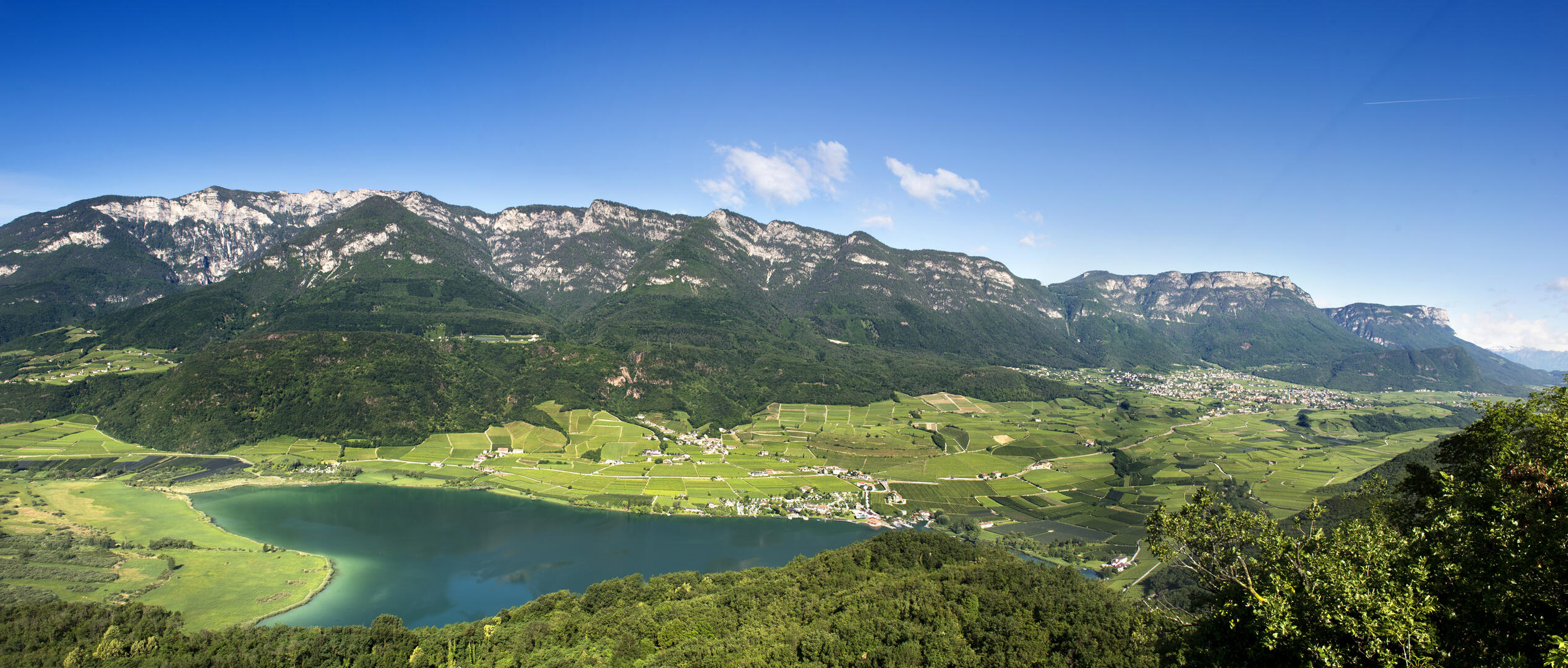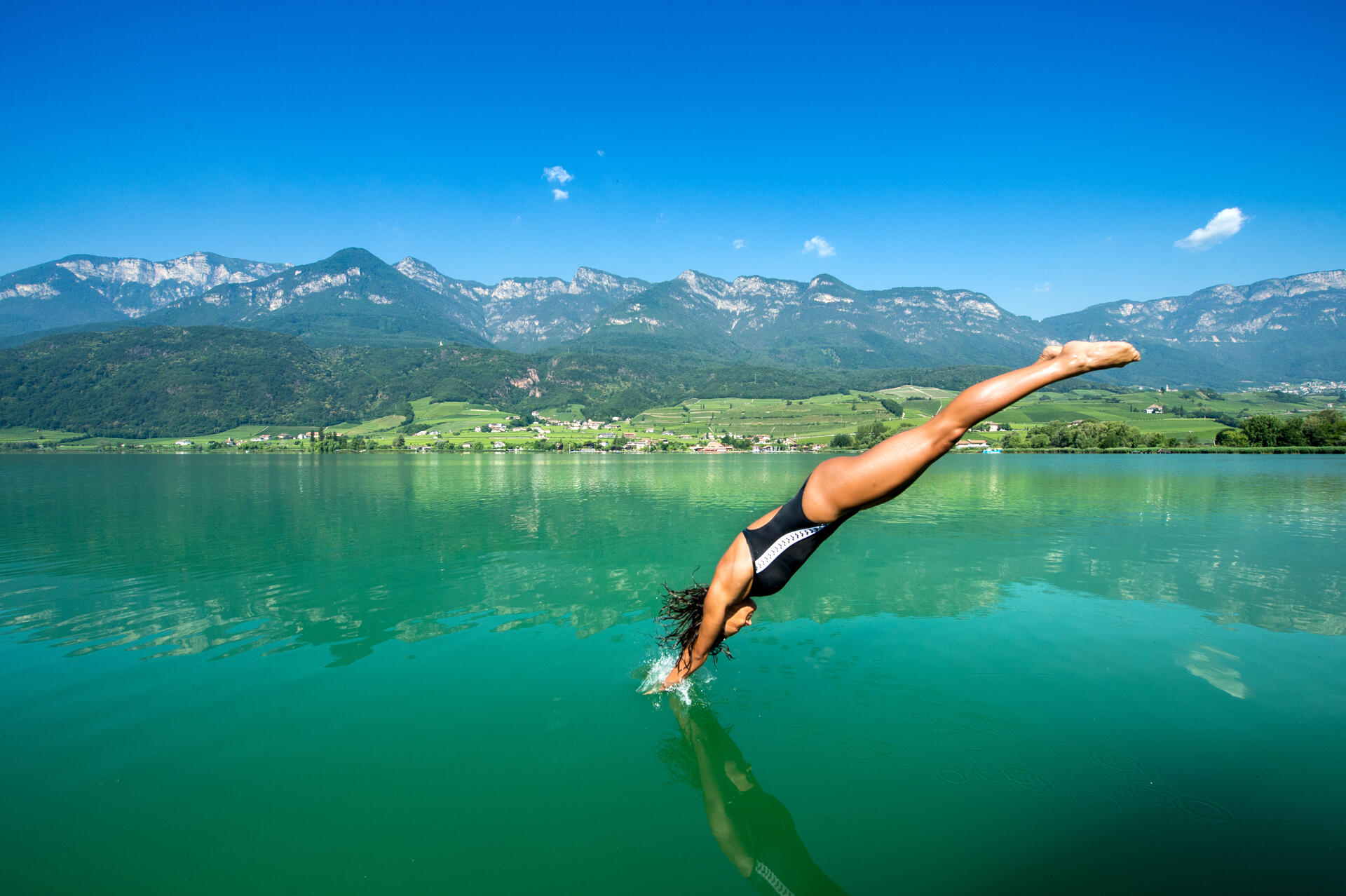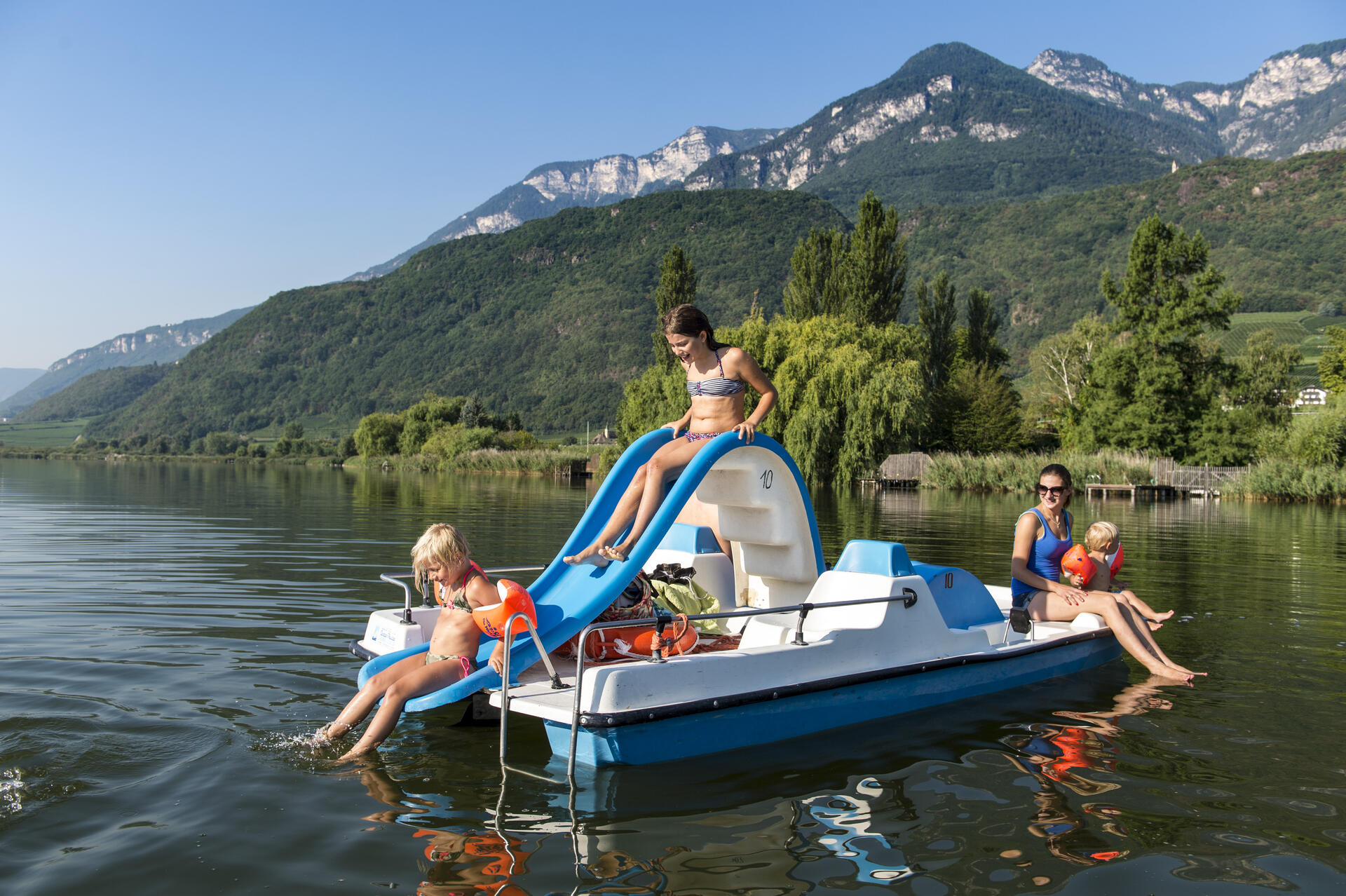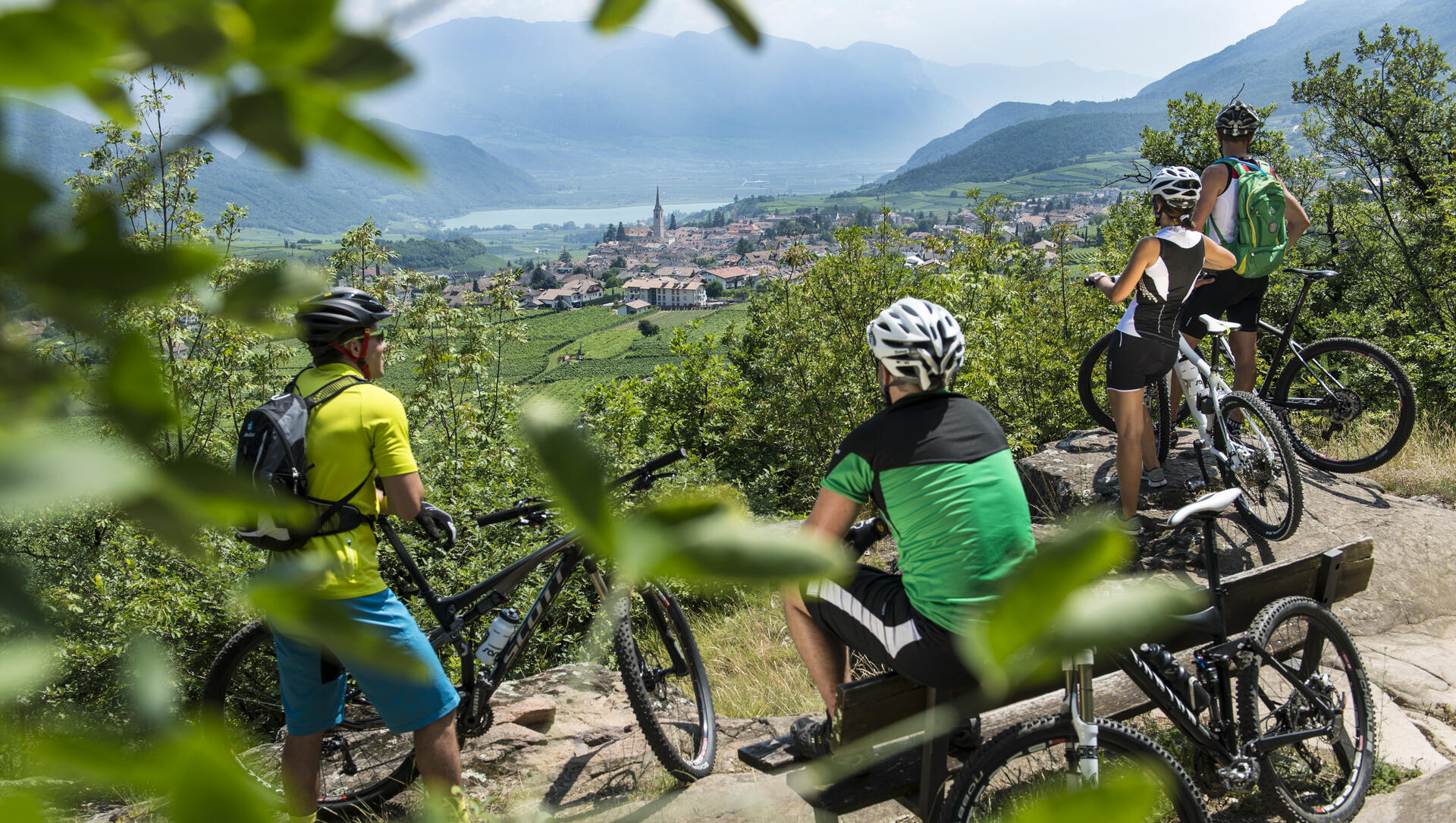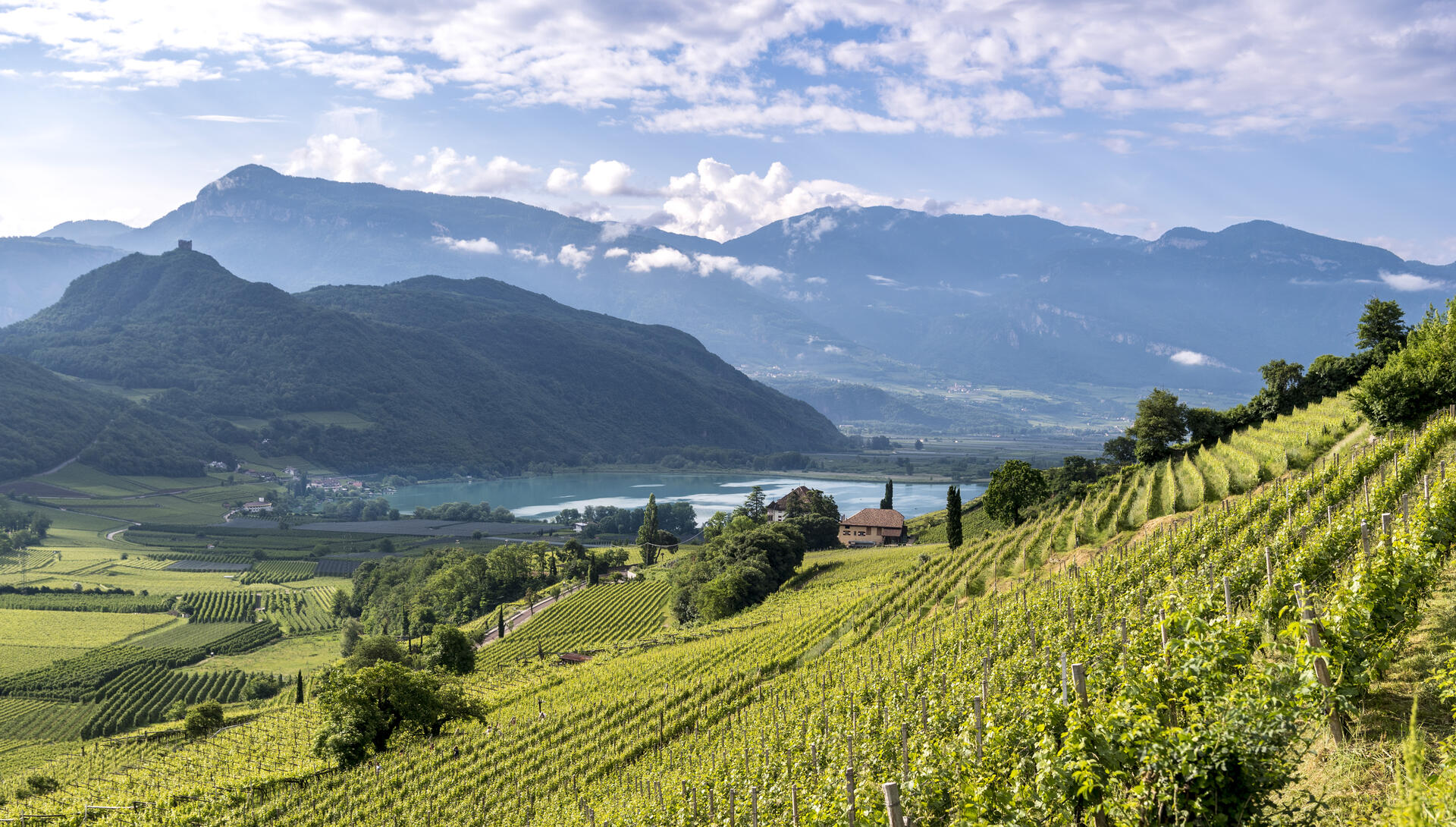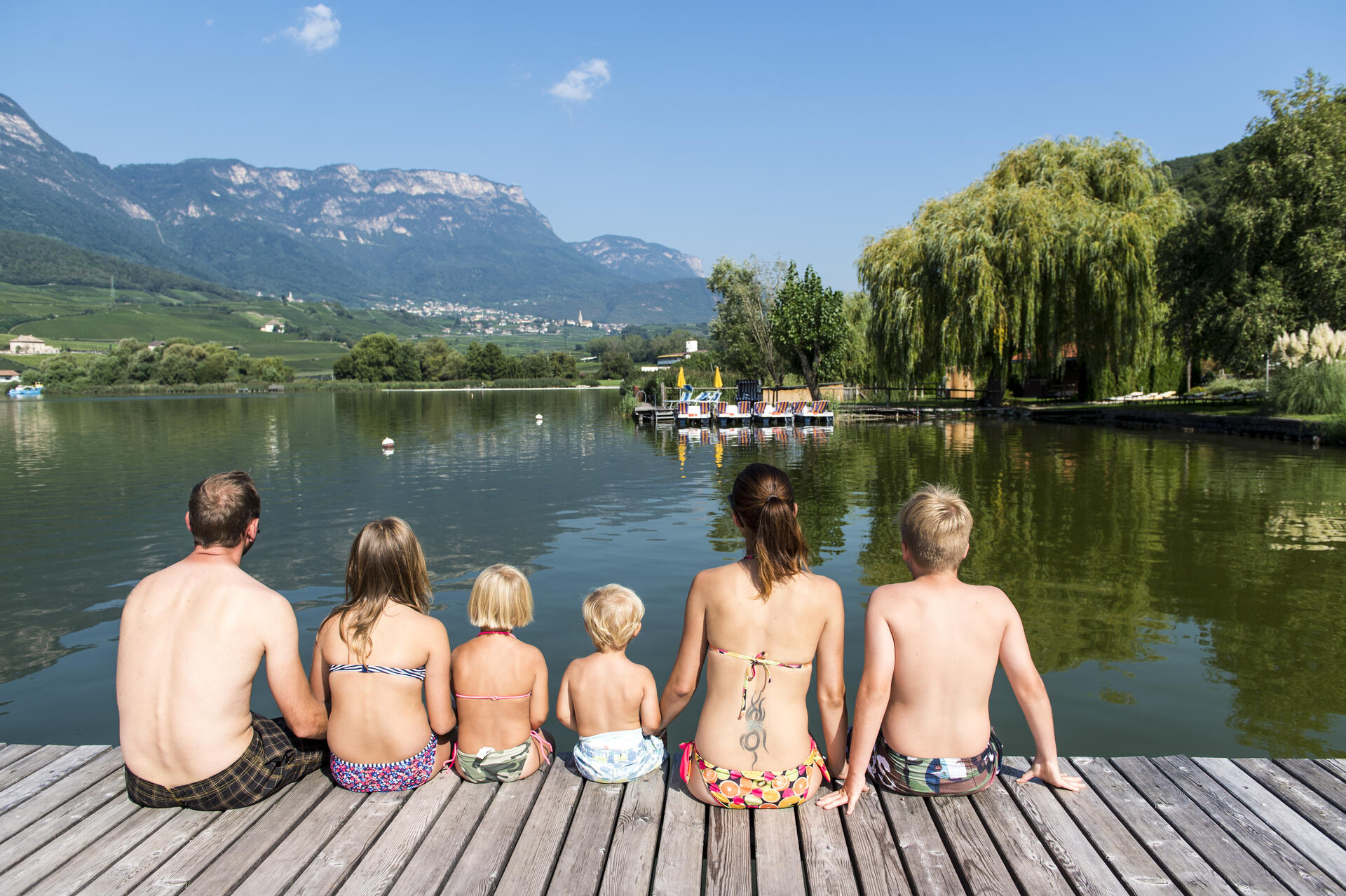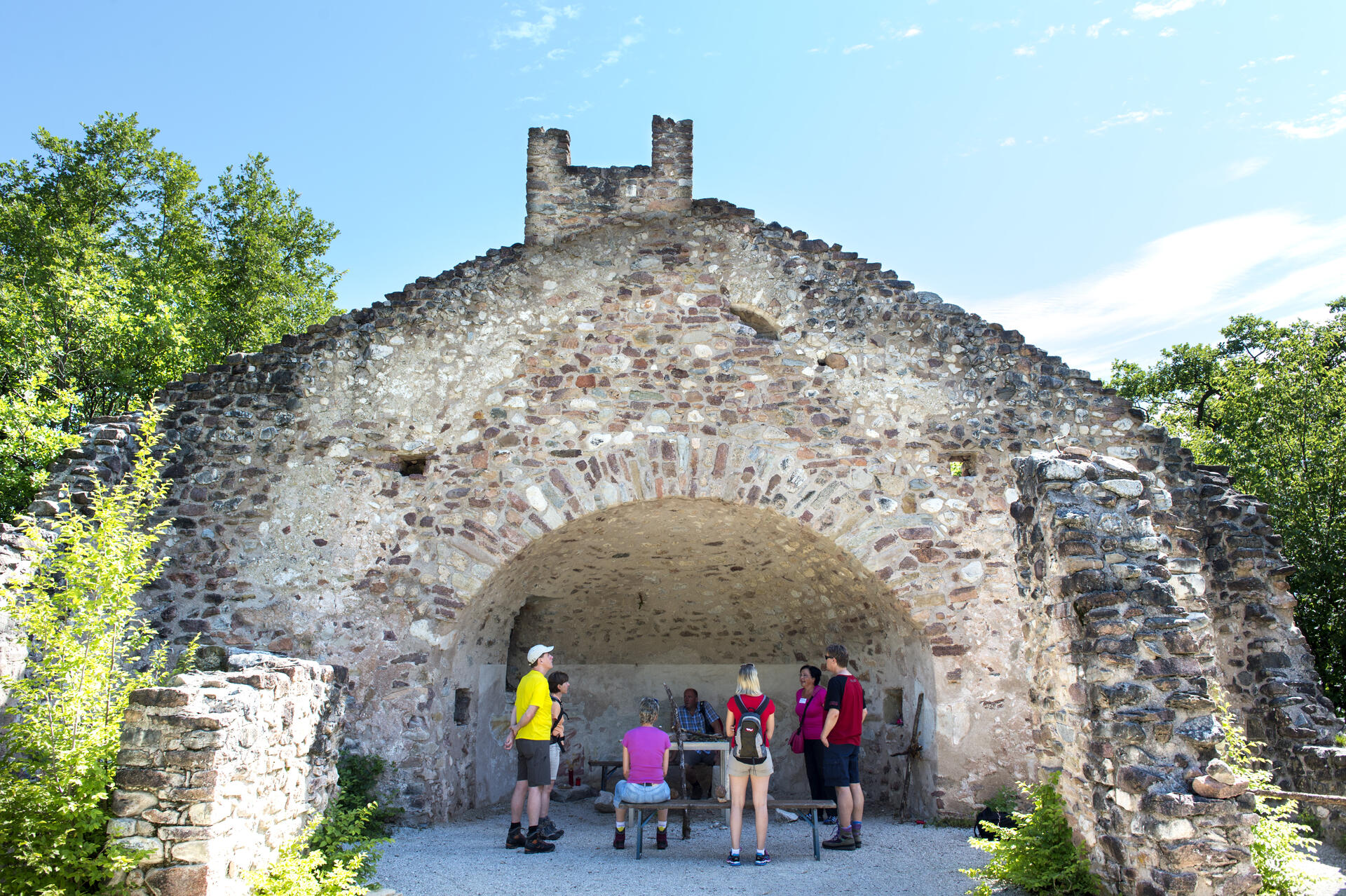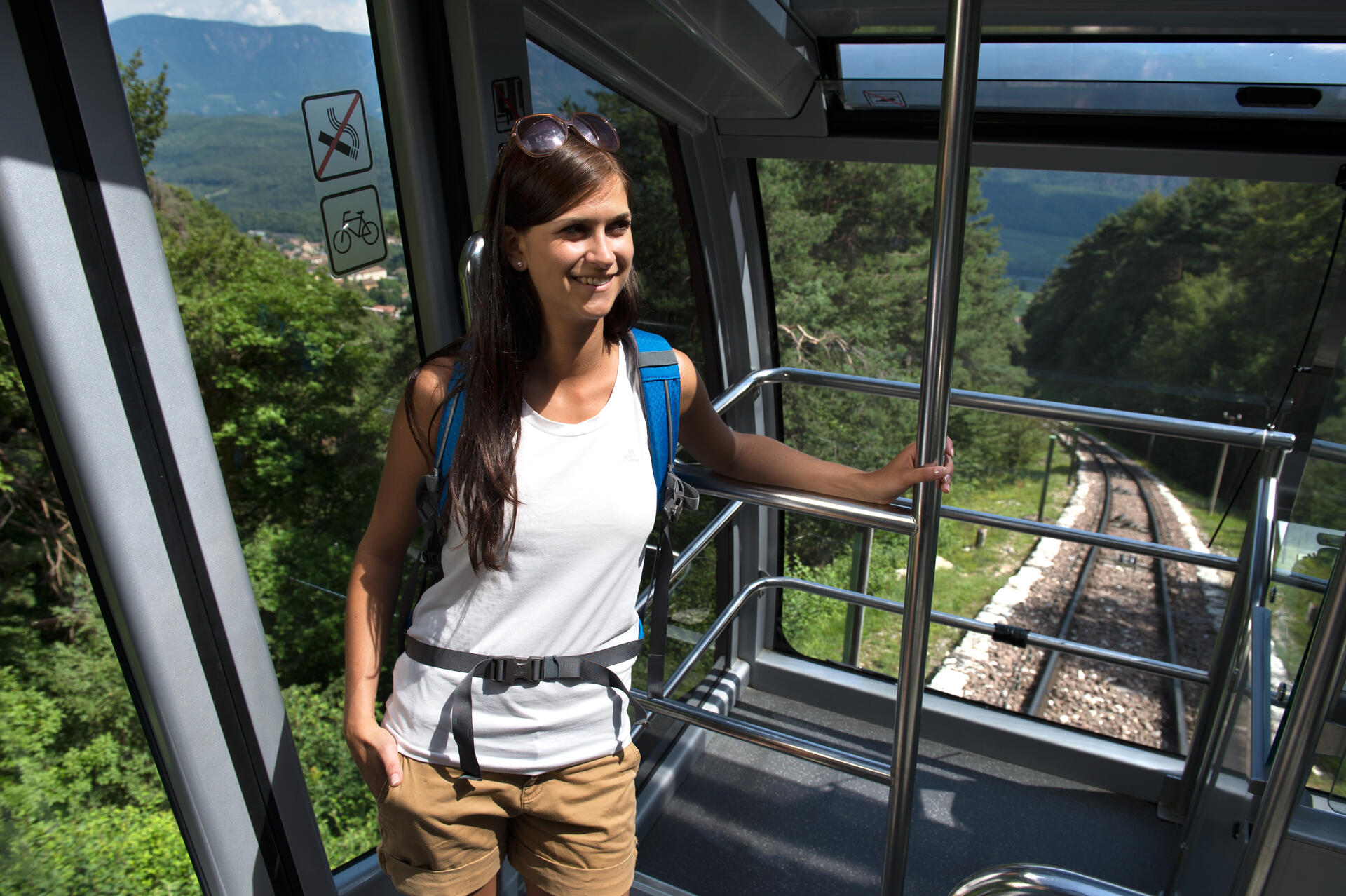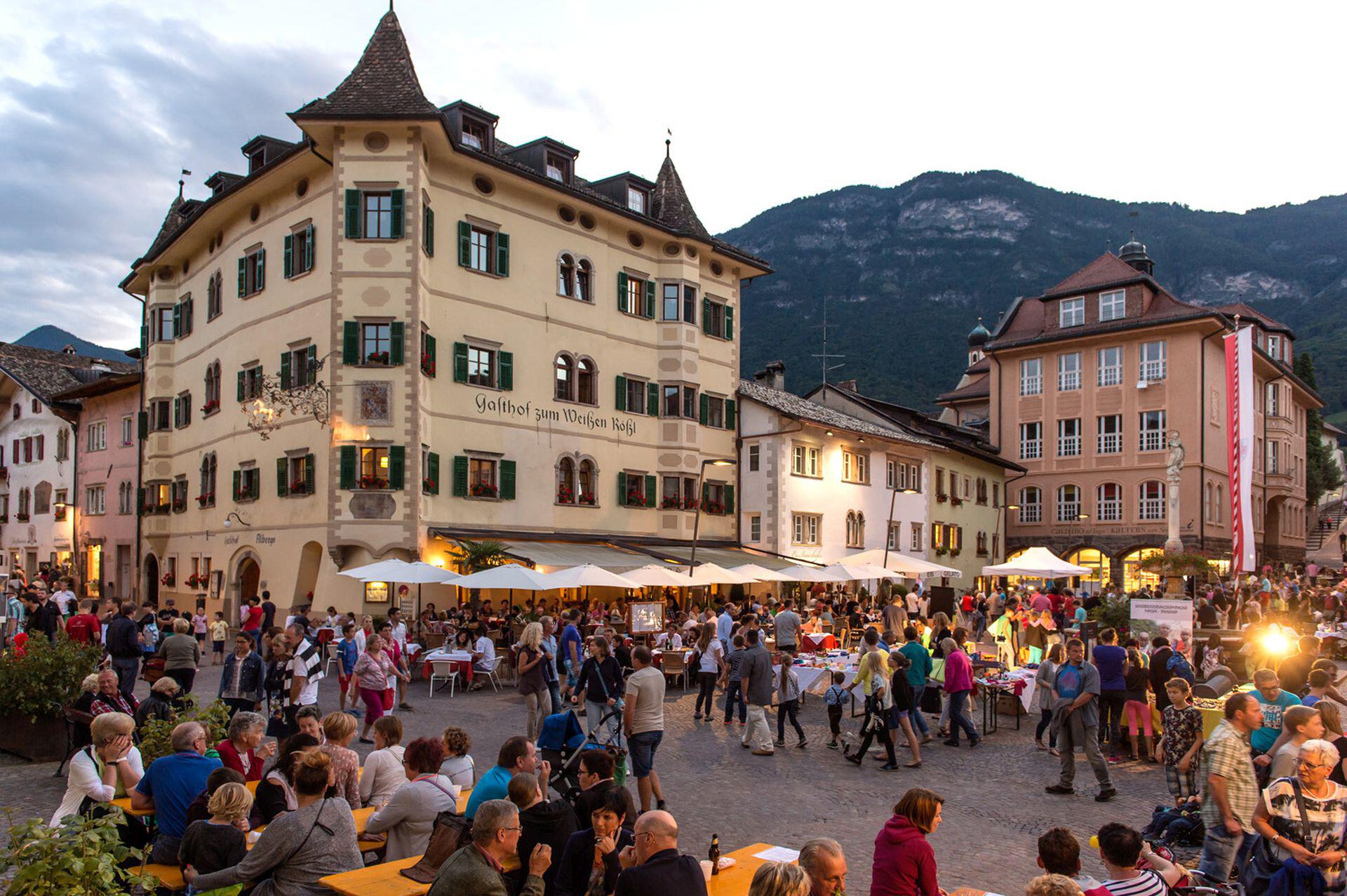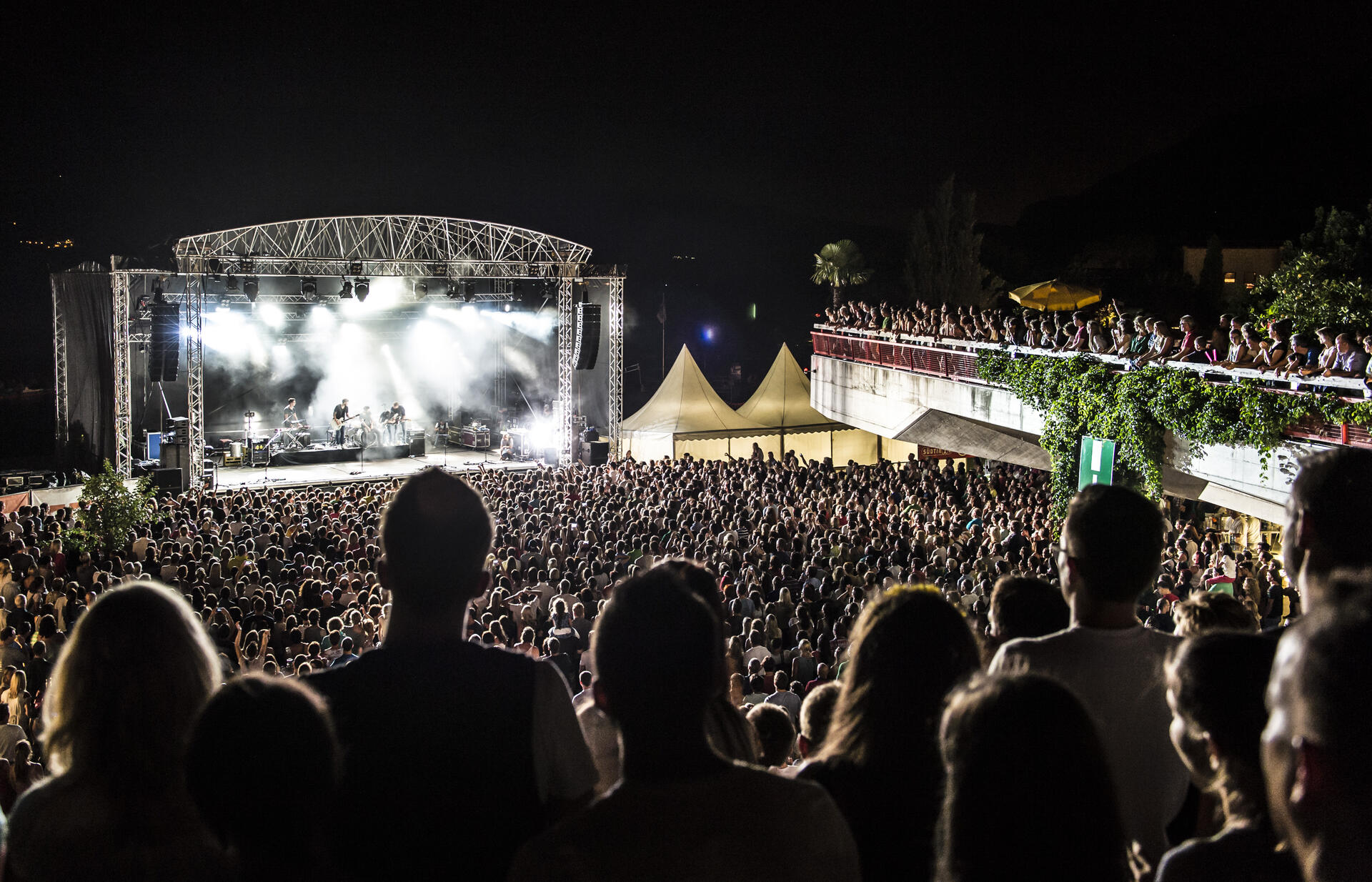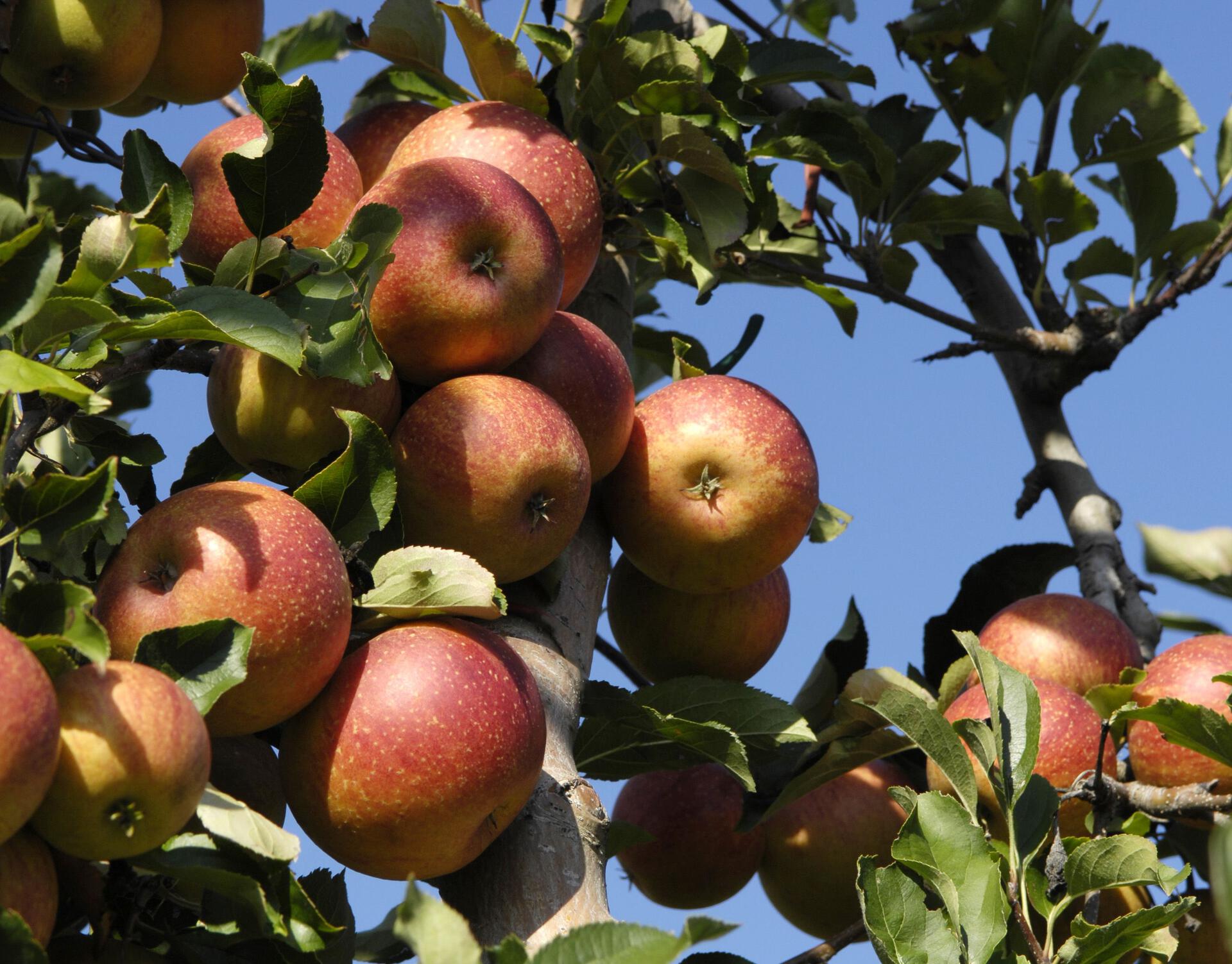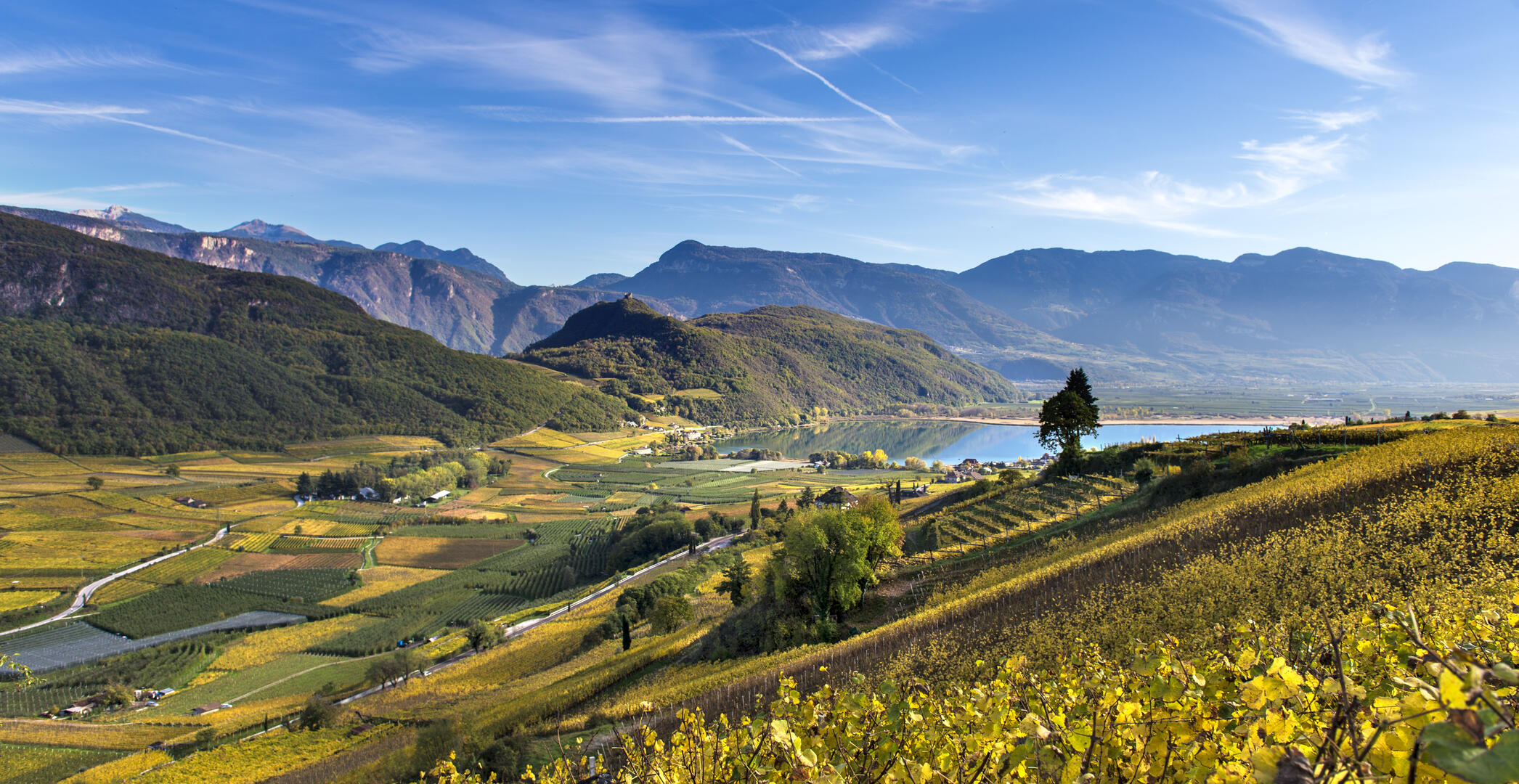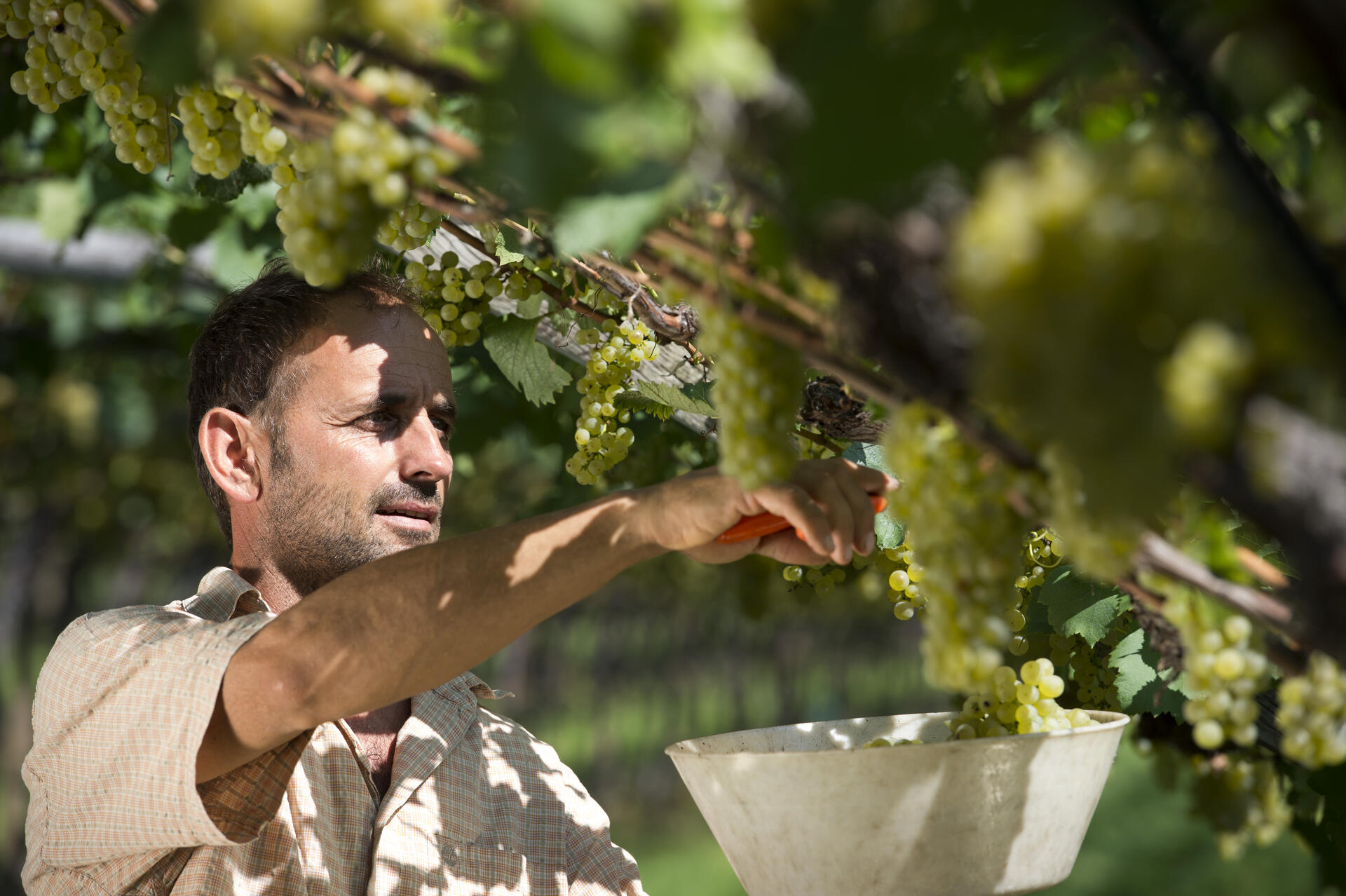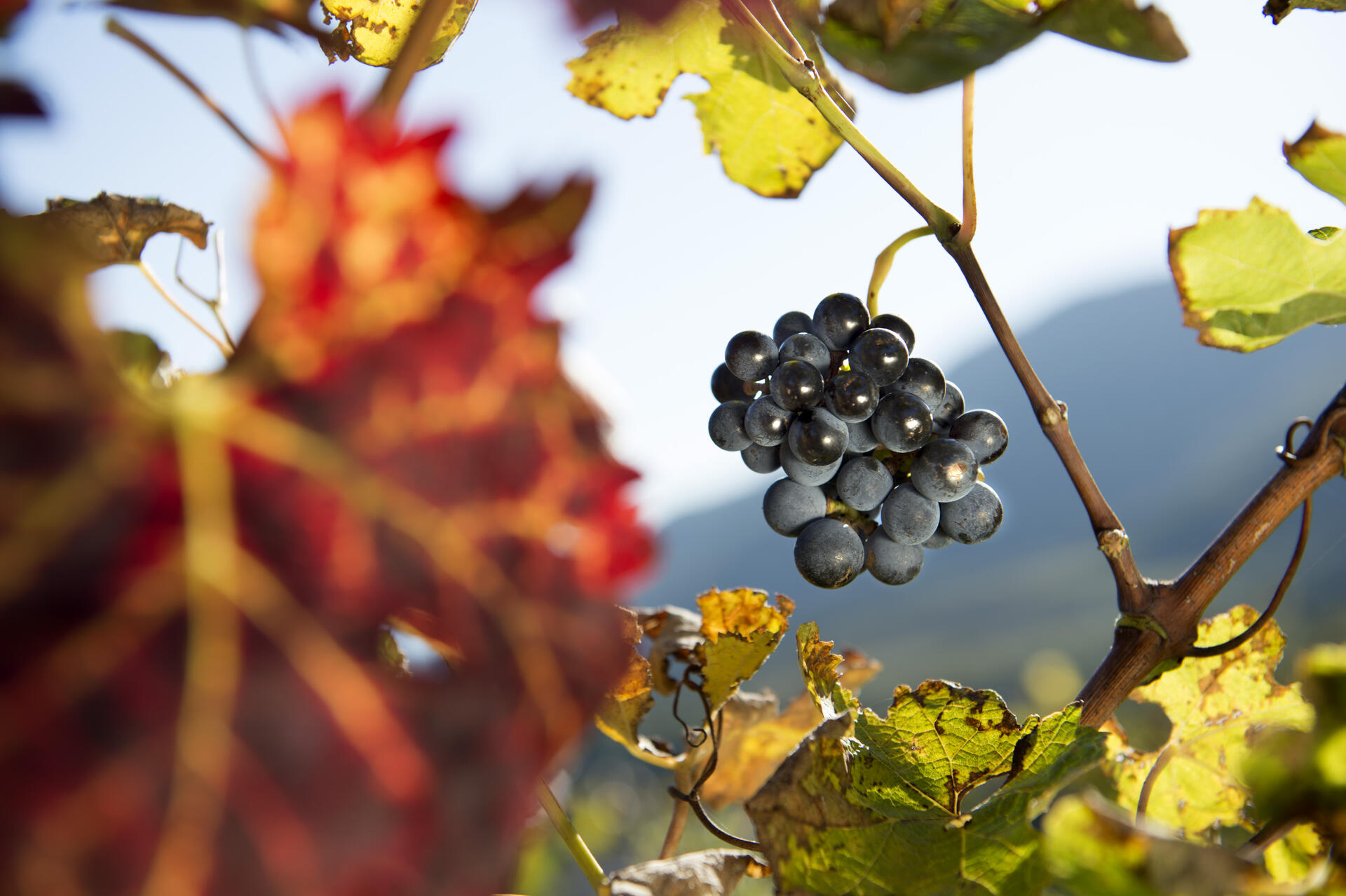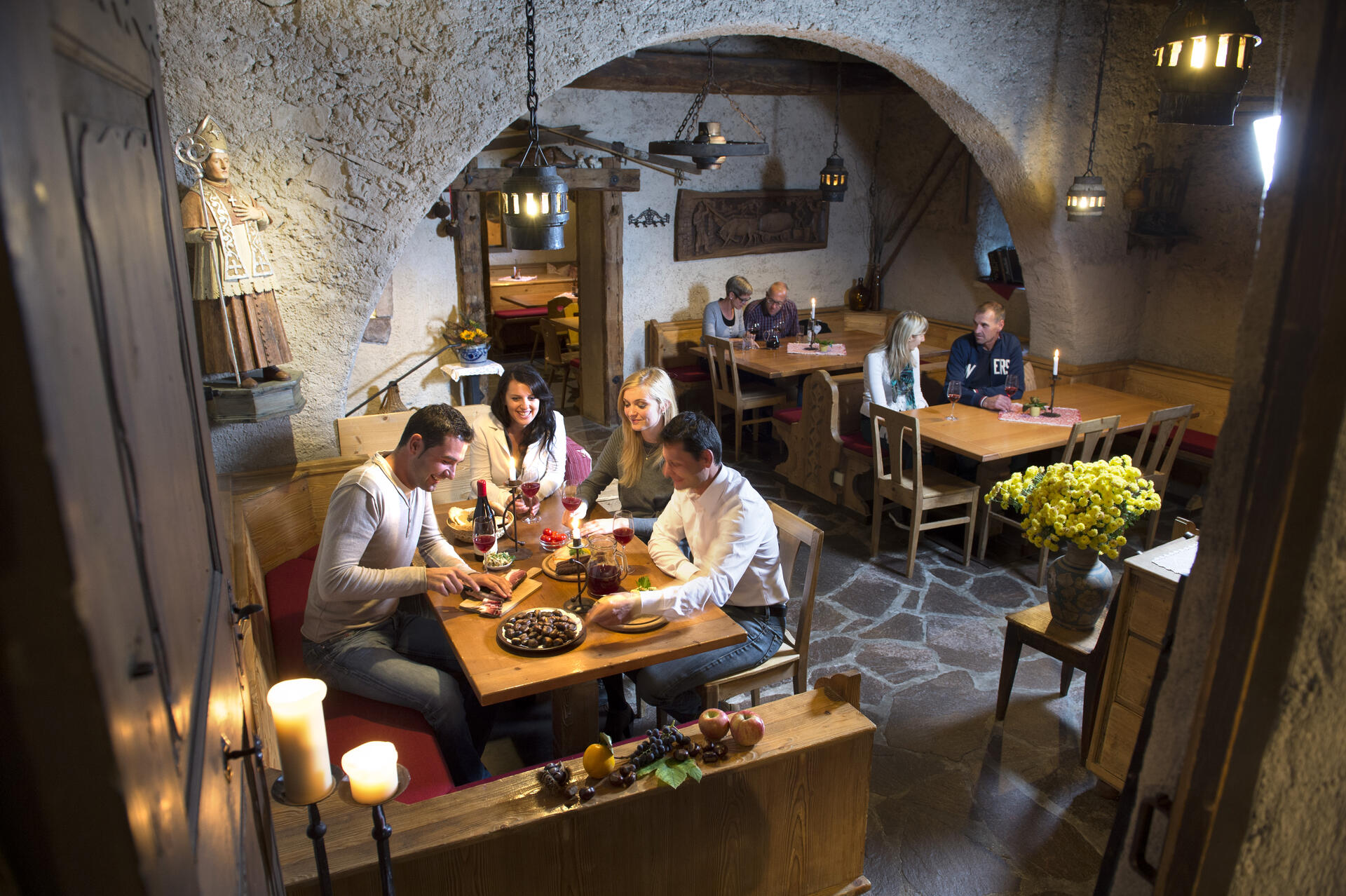 Summer acivities
Kaltern offers you many different activities – especially in summertime. Hikers and bikers will love the location of our home, as the "Kalterer Höhenweg" and the old path to the Mendel both are accessible right next to our house and a mountainbike trail is starting in front of the door. The owner can surely give you further insider information. The Mendola funicular railway allows all not-that-sporty-people to go to the Mendel without effort. A ride on the cable car is an adventure for both younger and older people. You can reach the valley station in a few-minutes-walk. From the summit station you have a wonderful view all the way to the Dolomites. If you want an even better viewpoint, we recommend hiking to the Penegal mountain: there you will find half of South Tyrol at your feet.Read more...
Other summer activities
You definitely shouldn't miss a visit to the lake, regardless of wether you prefer swimming, surfing or having a trip on a paddleboat. In spring or autumn, we recommend a hiking tour around the lake or a visit to either the habitat at the south-east of the lake with its boardwalks or the so-called "spring valley". The lake is a 10-minutes-drive by car or with a special bus driving from the centre of Kaltern to the lake and back. If you search for something different, you might want to visit the Montiggl lakes.
Joggers will love the way to the sports centre at St. Anton. Arrived there, you can choose from a keep-fit-trail, a bowling alley, a high rope course and a beach-volleyball-pitch. You can reach the sports centre in 15-20 minutes by foot, going by car, it will take you only five minutes to get there. The centre also is a perfect place to start a trip with children: you can go to Altenburg with its amazing view over the lake or visit the fascinating gorge called Rastenbach gorge.
If the weather is bad, you can visit the South Tyrolian Wine Museum located in the centre of Kaltern or the famous Ötzi - The Iceman at Bozen. Alternatively, you can go shopping in the arcades of Bozen and Meran or simply go "Törggelen" in autumn.
The Tourist association Kaltern, located at the main square, offers different activities (e.g. guided bike or hiking tours, town visits or a trip in a carriage) on a daily basis and can provide you with tons of other exploration ideas. You may also like the new tourist's app provided by them: the Kaltern App (Android | iOS).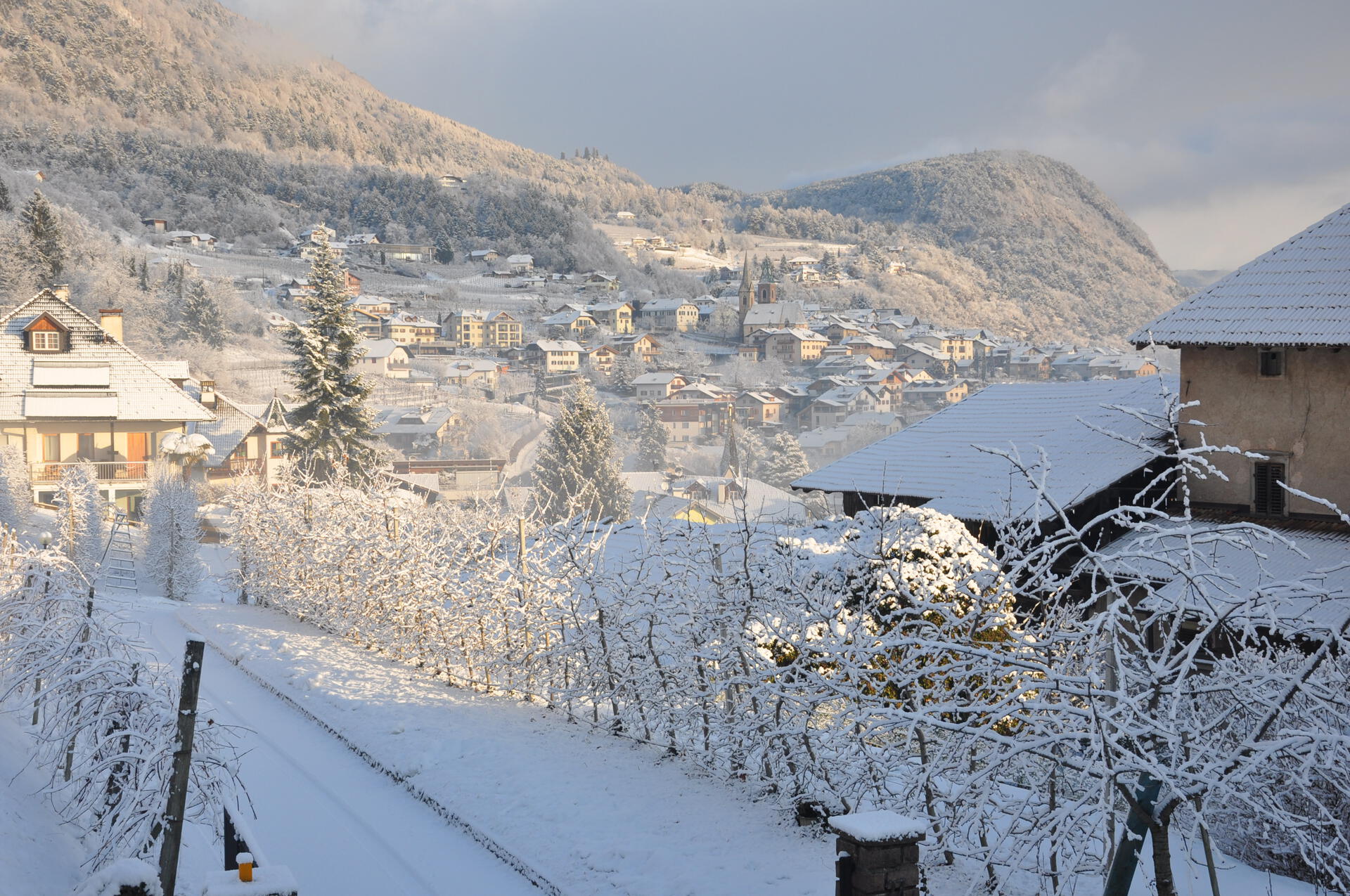 Winter activities
In winter, Kaltern is a very quiet town – and even more so when the snow falls. This is the time to take the cable car to the Mendel and have a walk to the refuge called "Halbweghütte". Hiking tours with snowshoes are especially lovely now. Another popular winter activity you can practice at the St. Anton sports centre is ice-skating. On condition that it is cold enough for the lake to freeze, you can also go there to skate (on your own risk) and join many other people doing so. On these rare occasions, the lake resembles a fair. Skiing is possible in the small Ski area Mendola Pass (20 minutes from us), offering you a chairlift and two ski runs. Bigger ski areas such as Val di Fiemme, Seiser Alm, Reinswald/San Martino or Ulten Vallay are about an hour away.Read more...
Other winter activities
A special event is the Christmas market "s'Kalterer Christkindl" at Kaltern, taking place every weekend in the Advent time. You can purchase traditional items, warm up with a cup of mulled wine or make a carriage ride. Bigger Christmas markets can be found in Bozen, Meran or Brixen. The carnival parade in Tramin called "Egetmann-Umzug" (changing annualy with the adults and childrens parade) is definitely worth a visit. You may also want to marvel at what artists build from snow and ice in the Ice Sculpture Competition in Ortisei / Val Gardena.
And if you do not feel like leaving the house, use our sauna and relax with soft music...
Prices
Apartment »Pfusser Lahn« (per day/up to 4 people)
| 08.01.22 - 01.04.22 | 02.04.22 - 24.06.22 | 25.06.22 - 09.09.22 | 10.09.22 - 04.11.22 | 05.11.22 - 16.12.22 | 17.12.22 - 07.01.23 |
| --- | --- | --- | --- | --- | --- |
| 92 € | 107 € | 130 € | 107 € | 92 € | 107 € |
Suite »Pfusser Acker« (per day/up to 3 people)
| 08.01.22 - 01.04.22 | 02.04.22 - 24.06.22 | 25.06.22 - 09.09.22 | 10.09.22 - 04.11.22 | 05.11.22 - 16.12.22 | 17.12.22 - 07.01.23 |
| --- | --- | --- | --- | --- | --- |
| 80 € | 87 € | 98 € | 87 € | 80 € | 87 € |
Service
Included:
electricity, water, gas, heating
final cleaning (minimum stay: 1 week)
bedlinen, dishtowels and towels
safe
radio and TV with digital SAT
WLAN-access
dishwasher
baby's changing mat, cot and child's armchair (on request)
information folder
hairdryer and shower gel
welcoming present
washing machine (apartment »Pfusser Lahn«), clotheshorse, iron
roofed parking (apartment »Pfusser Lahn«)
uncovered parking (apartment »Pfusser Acker«)
exclusive use of the sauna 3 times weekly from November to March
grill with large wooden table
playground with sandpit and little house
table tennis
lawn with swinging chair and 2 sun loungers
backpack to borrow for excursions
library with holiday reading and non-fictions about South Tyrol
parlour and card games
bikes for rent (on request)
non-smoking-house, open all year
We are glad to receive inquiries by e-mail (gaestehaus-pfuss@rolmail.net) or by phone (0039-0471-964148). Please give us name, address, desired booking period as well as number and age of all guests. You will get an individual offer as soon as possible.
Interesting facts
Information
additional person (childs 3-14 years/adults) 12 or 15 Euro/day.
mandatory local tax 0,85 € per person/day, excluded children up to 14 years.
Minimum stay: high season 1 week, in low season and last minute 2-3 days (with additional charge of cleaning costs of 60 respectively 75 € and a supplementary charge of 10 % on the daily price).
Arrival from 4 p.m., departure before 10 a.m.
Sorry, pets not allowed.
Apart from the registered guests no other people (unknown to us) is allowed to stay in the house.
Reservation is valid only after deposit of 200 Euro/week by remittance. Balance is requested by remittance or in cash on arrival. We can not accept credit/debit cards and cheques. The cash-deposit of 150 Euro for potential damages requested at arrival will be refunded at departure.
Cancellation: Minimum 50 Euro administration fee for any cancellation. Reservation cancelled less than 2 months prior to arrival: advance payment is retained. Cancellations 1 month or less before arrival, non-arrival or early departure: full price. We recommend the conclusion of a cancellation insurance.
Location: How to get here. If you travel by train, ask for our pick-up-service at the railway station of Ora (charged). You can also book a transfer shuttle that will carry you to your lodging online. GPS-coordinates: Latitude: 46.411610 Longitude: 11.231420
Travel information on the current situation regarding the corona virus you can find here.
Reductions
1 child under 3 years sleeps without charge in the parent's bed or in the cot.
For stays of more than 2 weeks a reduced flat rate is applied (on request).
Offers
During winter we offer special prices for "Workation". Please send us a request and we will make the best effort to create an offer tailored to your needs! More information on "Workation" you can find on www.suedtirol.info/workation
Schedule
Wellness
Sauna
You always wanted to have the sauna all to yourself? Then you are exactly right with us! Originally built by the landlord personally for his own use, we now offer our sauna cabin made of chopped spruce boards in the basement also to our guests (from November to March 3 times a week, free of charge).
You can choose between herbal bio-sauna (about 60 ° C) or Finnish sauna. We prepare the sauna according to your wishes and you can choose your favorite herbs / fragrances. Enjoy the pleasant warmth with soft music and relax your body and mind. Then you can go out in the fresh air and relax in your own bed without anyone disturbing you. Read more...
Using the sauna
The sauna herbs are almost exclusively from our own cultivation. For the bio sauna you can choose between up to 10 different herbs including lavender, calendula, chamomile, hay flowers, lemon balm, peppermint and others. In addition, we offer various essential oils.

Please note that we can not provide sauna towels / bathrobes.
Children are only allowed when accompanied by adults.
Keep the balance – A break in South Tyrol
You need a break every now and again so you can rest and recharge ready for everyday life. South Tyrol makes this break a reality. We help you slow down and relax at our retreat on your mini break. On breaks at rejuvenating spots in the natural landscape of South Tyrol, you will re-focus on what is essential, ground yourself and enjoy the moment with mindfulness. Read more...
Südtirol Balance
Life between mountains and water, that keeps South Tyrol in balance. You will become surefooted on the mountain. Let yourself drift in the water. Eating with pleasure keeps body and soul together. And fresh ideas are just shaking your head. In harmony with body and mind - what brings you back into balance?
We are deeply convinced that a good balance is necessary for our health. Its most important elements are calmness, exercise in nature, healthy and natural nutrition, wellness etc. And that's what we stand for!
About us
Our business
We have been running our small business only for a short time, but we run it with great enthusiasm, even if we have to continue working our day jobs. Being enthusiastic fans of apartments in small structures far away from hustle and bustle ourselves, choosing this business was a logical decision coming from the bottom of our hearts - and we have had no regrets so far! In addition, we made the experience that we attract exactly that kind of guests who want the same as us: uncomplicated holiday in natural surroundings - but with certain quality standards. The nicest compliment for us are satisfied guests who like to come back!
We truly appreciate our peaceful, rural environment and are grateful to live in this beautiful place. We would love to give you the possibility to experience the quiet and touch with nature, too. Therefore, we will try not to disturb your privacy at all, in order for you to be able to fully relish your holidays. Just enjoy the luxury not to be available and forget about everyday life and indulge in some days with your loved ones. It's so precious… Here you can completely withdraw and recharge your batteries for everyday life. We'd be glad to welcome you in our house! Read more...

Your hosts Martha & Benedikt Thaler
What does distinguish us from other homes?
a life in harmony with the surrounding nature
a maximum of privacy and absolute independence
soothing peace and relaxation in a quiet place
a comfortable and very personal ambience, designed with love
a touch of (sustainable) luxury through the exclusive sauna use, some very high-quality equipment and many small household extras
natural, homemade food products, fresh from the garden with "zero miles"
a welcome with fresh garden herbs and our own seasonal products
various amenities for a easygoing holiday with children.
Philosophy
Our philosophy is inspired by an ancient American proverb: "We did not inherit the world from our parents, we borrowed it from our children." According to this motto, we attach great importance to sustainability. Therefore, we mainly use natural materials, in-house and regional products and support short routes and local circuits. The cultivation around the house largely follows biological principles. We do not always live up to our guiding principle, but we strive to make it better and better. We get the appropriate training and inspiration in the Winterschule Ulten. Read more...
Please assist us!
We would be pleased if you support our philosophy with active help (with the appropriate heat regulation, economical water consumption, waste separation, use of provided shopping bags, etc.). And: drink our spring-fresh tap water! It is free, delicious and saves tons of plastic bottles throughout the year ... We also encourage you to move as much as possible in the fresh air and walk the mostly short ways. Leave your car behind and take advantage of the good public transport connections. Explore the forest with the children and show them the treasures of nature! Or sit in the cool shade of the big walnut, listen to the sounds of nature and watch the birds and squirrels.
Environment committment
For nearly 30 years we have been using solar energy for hot water production and since November 2010 also for power generation. The thermal insulation of the house in 2011 was deliberately not made of plastic materials – dispite higher costs, and since the beginnings of 2014 our heating no longer is based on fossil combustibles. Since 2022 we also have an electric car. Changes to the apartments also follow our philosophy: wherever possible we use natural materials (floors and furniture in wood, sheep wool, cotton, decorative items made of natural materials...) and high-quality, durable objects. Read more...
Further information...
We do our shopping in a way that minimizes waste and - if possible - recycle what we cannot avoid. Our beverage service is limited to natural, domestic products in returnable bottles. Cultivation around the house largely follows biological principles (no artificial fertilizer, as far as possible natural "insecticide", use of herbs against pests, composting, etc.) and the chickens are kept appropriately. If you are interested, the landlord likes to show you where and how the raw material for our homemade products is growing. Just ask!